"It is my sincere belief that our country needs, first and foremost, a satirical newspaper. Because things that require serious journalism and study don't exist here. Fortunately we manage to make even the most serious things LAUGHABLE. For this reason I decided to publish THE LAUGHTER, satirizing everything that other journalists are serious and, more often than not, insincere about. Thinking of the words of Psycharis "A PEOPLE PROGRESSES WHEN IT LEARNS NOT TO BE AFRAID OF THE TRUTH" I find no journalist that has indeed progressed, since everyone is afraid of truth. But because I do not want this to seem as if I am lying, I would like to say the following: MANY TIMES I, TOO, WILL BE FORCED TO BE AFRAID OF THE TRUTH BECAUSE I AM NOT INDEPENDENT. But I will try as much as I can, as much as, that is, my bosses permit me (and for a teacher the whole world is made of bosses), to strike falsehood and defend the truth."

George A. Fasouliotis, The Laughter, Year 01, N.01, December 1, 1928 (translated from Greek)

View publication: https://archive.org/details/the-laughter
Limited edition prints: 150 Greek and 100 English. Texts by Peter Eramian. Designed by TWO (Think Work Observe). English to Greek translations by Philip Philippou. Black soya based ink, risograph printed, Cyclus 115gsm paper, Hato Press, London. Cover illustration by Philippos Vasiliades, based on the cover of "Γέλιο" (Laughter) issue 01, 1 December, 1928.

PANIC: MASS RIOTS ROCK CYPRUS
Prompted by "The Death of the Mother"
Filmed and edited by Ivan Charalambous at Crewhouse Media. Thanks to George Georgiou, DueCapi and the musicians: Dimos Charalampous, Kleanthis Demetriou, Thelios Georgiou, Iro Michael, Anna Pavlou, Eliana Pavlou, Lambis Pavlou, Marios Pavlou, Annini Tsiouti. Thanks to Christakis Klitou for entrusting us the use of one of his coffins. Flowers from Kamelia flower shop. Thanks to everyone who assisted on the day of the shoot.


EXPOSED: BRITISH NUCLEAR TESTING AT MARI
But SBA's reject claim as unfounded
Original image from the National Army Museum webpage: Men of the 1st Battalion, The Middlesex Regiment (Duke of Cambridge's Own) with Mk I Ferret Scout Car in the Troodos mountains, 1957. NAM. 1992-08-65-86.
SCANDAL: THE QUEEN AND THE PAUPER
Shock as true identity of Elizabeth II revealed

Queen's Royal costume created by Clio Alphas. Queen's 'Sunday best' costume selected by Clio Alphas. Special thanks to Mrs. Maria Aresti for posing as the Queen of England. Photographs by Stelios Kallinikou. Make up by Eliana Mandrides. Hair by Konstantinos Mantziokas.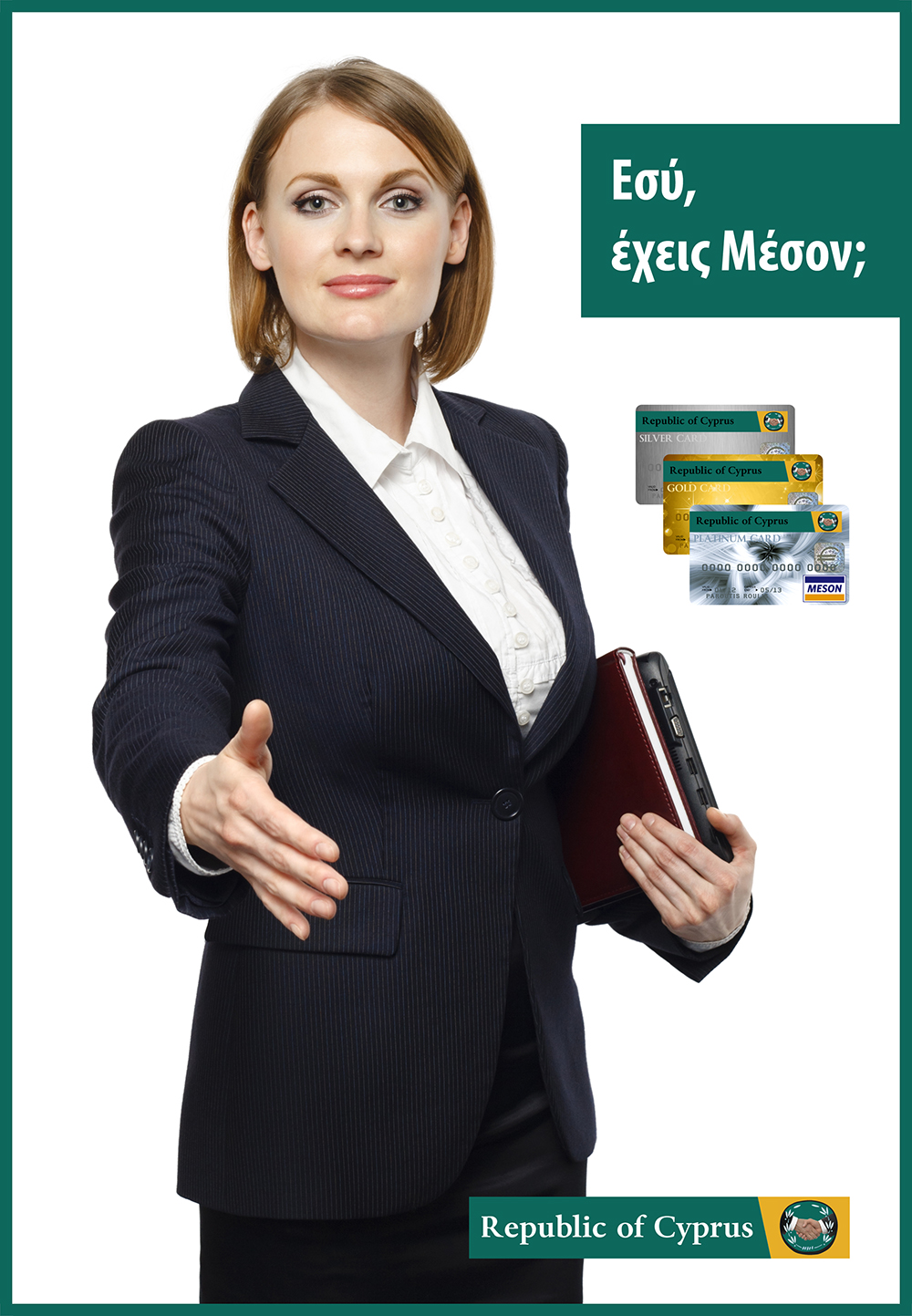 JUSTICE: MESON CARD
New Scheme to legalise nepotism
Credit cards printed at Plastic Cards Direct, London.
RELIGION: "ONE SMALL STEP FOR CYPRUS, ONE GIANT LEAP OF FAITH FOR HUMANITY"
Archbishop aims for the moon

Original images by NASA.
DEVELOPMENT: "MY INTERNATIONAL MALL OF CYPRUS" AND "1974 THEME PARK"
Buffer zone airport to serve as model for reunified island
Concept in collaboration with architect Philippos Zannettos of Zannettos Architects. All architectural plans by Philippos Zannettos. Maquette by Lia Petridou of Arts Quorum.
Exhibition at Omikron Gallery, Nicosia, 2012. Curated by Maria Stathi.